Page 6

Page 1 - Page 2 - Page 3 - Page 4 - Page 5 - Page 6 - Page 7 - Page 8 - Page 9 - Page 10
Page 11 - Page 12 - Page 13 - Page 14 - Page 15 - Page 16 - Page 17 - Page 18 - Page 19
Page 20 - Page 21 - Page 22 - Page 23 - Page 24 - Page 25

May 2005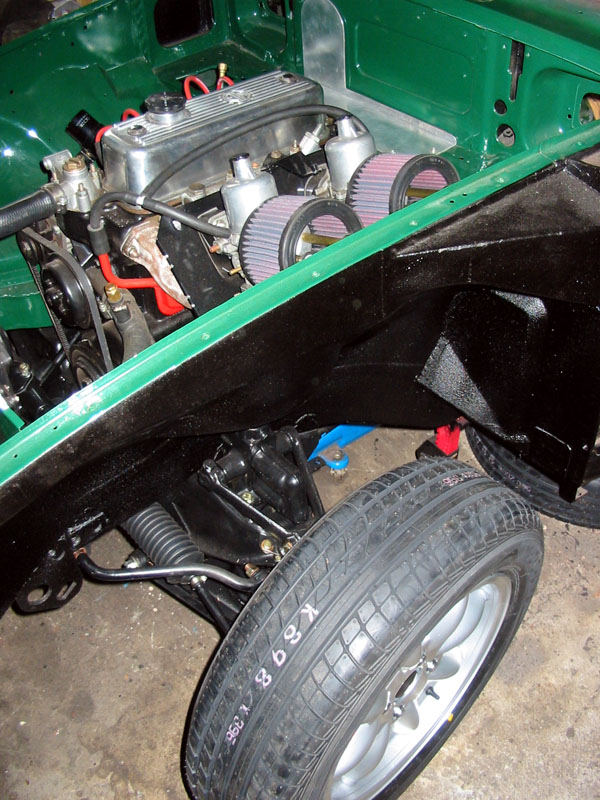 Things have slowed down somewhat since it is cold and wet now and I am unmotivated to go out into the
garage and work on the car. I have got the front suspension and steering all done and the front
wheels on though. I need to work on the rear axle and diff and suspension. But first I need to
finish patching the holes in the boot and repainting the underside from the heel board back.


June 2005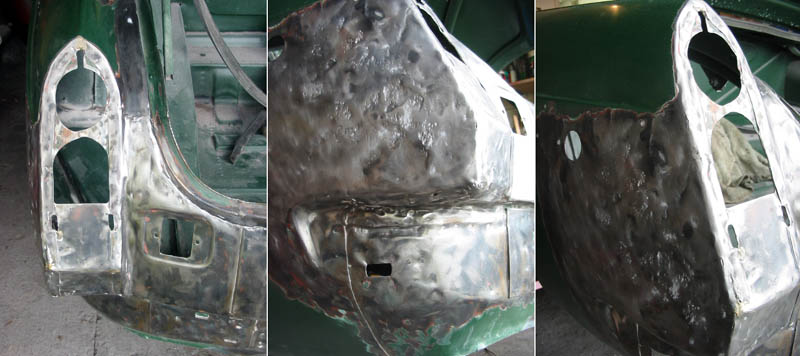 Carcheology - The study of digging down under the layers of paint on a car to see what you can find.

Usually what you find scares you. I had to remove paint under the rear light clusters so I can weld
on the pieces that are missing from rubber bumper cars under the lights. I started wire brushing
and I find that there is quite a bit of filler under there. Actually a hell of a lot of filler.
I kept wire brushing and I find the whole left hand rear end of the car is a mess. Seems it was
hit there sometime in the past and the whole lot was hammered out then filled over. I think I will
have to panelbeat is all as best as I can then rebuild the corners and edges with welds or body
solder. I will still need to use lots of filler to get things smooth but hopefully not the quarter
inch or more used by some DPO. Right now the whole things looks like some scary sculpture.





I also found where the boot corners have been patched. Interestingly the left rear side is battered to
hell but has no rust. The right has been patched in the past. You can see how they were tacked in.
Since they didn't patch far enough or neatly enough for me I will remove the old patches and weld
new ones. I have already done the same on my GT so I have some experience at it at least.


September 2005


When I stripped the diff for cleaning and to replace oil seals and the thrust washers I found these
small bits in the bottom of it. It isn't metal. More like hardened grease perhaps? It is moulded
in the shape of the splines on the end of the half shafts. I think it came from under the side
gear on the opposite side to the pinion. It is very brittle and porus. I can't see any damage to
any of the gears inside the diff itself or to the halfshafts themselves so I just cleaned it all
out and made sure no more small bits were floating about in there.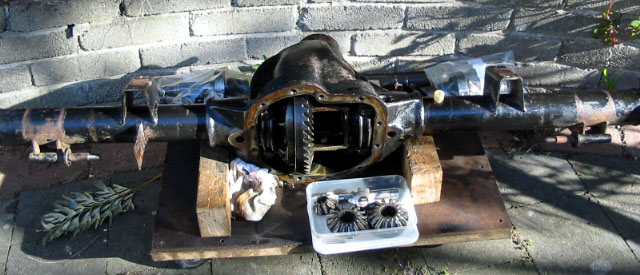 The diff in pieces.



Page 1 - Page 2 - Page 3 - Page 4 - Page 5 - Page 6 - Page 7 - Page 8 - Page 9 - Page 10
Page 11 - Page 12 - Page 13 - Page 14 - Page 15 - Page 16 - Page 17 - Page 18 - Page 19
Page 20 - Page 21 - Page 22 - Page 23 - Page 24 - Page 25
---
Copyright © 2004-2009 Simon Jansen